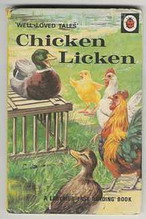 Many teachers and parents may think that Ladybird books have been consigned to history, that they hark back to a long distant memory of schools many years ago. However, Ladybird books are moving into the 21st century with the release of the Ladybird Classic Me Books App in the App Store. Thanks to Mary Farmer (@ebd35 on Twitter) who made me aware of this special bargain, you can download the app from the App Store and get all 20 books in the series for a limited period for just 79c! "The Zoo" is included in the app purchase, and all the others can be downloaded for free within the app.
Younger children will still enjoy reading these traditional tales, with the twist of reading them on a mobile device. The pages in the book are turned with the swipe of a finger. The child can listen to the book being read to them, or they can record their own narration of the book. "Hot Spots" on the picture page can be touched to hear a character speaking or making a sound effect. The books in the series are:
The Zoo

The Three Little Pigs

Cinderella (Read It Yourself)

The Little Red Hen

Goldilocks and the Three Bears

Jack and the Beanstalk (Read It Yourself)

The Three Billy-Goats Gruff

Talkabout Animals

Chicken Licken

Dinosaurs

The Ugly Duckling

The Farm

The Gingerbread Man (Read It Yourself)

Talkabout The Park

Cinderella

Nurset Rhymes

Puss in Boots

Rumplestiltskin

Tootles the Taxi

The Party
This app is compatible with iPhone, iPod Touch and iPad. It can be downloaded HERE in the App Store. There does not appear to be an Android equivalent at the moment.