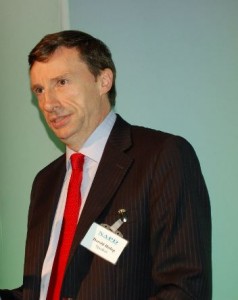 Seomra Ranga is delighted to announce that Dr. Harold Hislop, the Chief Inspector with the Department of Education and Skills (DES) has kindly agreed to be the next subject in our interview series. Originally from Co. Cavan, he trained as a primary teacher in Church of Ireland College of Education (CICE). He taught in Whitechurch NS in Rathfarnham, where he later became principal. He gained a Ph.D. from University College Dublin (UCD) and in the mid-1990's was seconded to the National Council for Curriculum and Assessment (NCCA). He subsequently joined the Inspectorate of the DES in 1998 and was appointed Chief Inspector in April 2010.
This is where visitors to the website can become involved. Harold has agreed to take questions from visitors to the website. You can submit questions for him via the Facebook or Twitter pages, or by posting a comment on this post. These questions must not be of a specific nature but about points in general in relation to education in Ireland and the work of the Inspectorate in the DES. Questions should also not be of a personal nature, they must not relate to your individual school and should be succinct and to the point. I will collate / edit /amalgamate these and submit them to Harold for answers / comments. I will then put his answers together into a post on the Seomra Ranga website.
It's a welcome development that the door of the office of the Chief Inspector is open for questioning from the teachers of Ireland through this website. This is a great opportunity for practising teachers to put questions directly to the Chief Inspector of the DES, so I hope that we can get a wide range of questions from the the teaching community. I wish to express my appreciation to Harold for agreeing to submit himself to questioning through the Seomra Ranga website. Please insert your suggestions for questions below.
For more information on the role and management structure of the Inspectorate, the DES has recently published a Reference Guide to the Inspectorate, which can be downloaded from the DES website HERE.