Did you know that back to school also means back to developing exciting class science projects for the RDS Primary Science Fair 2012? The call for entries is now open and primary schools across Ireland are invited to visit www.rds.ie/primarysciencefair to submit an expression of interest to participate in the 2012 Fair.
Open to 4th, 5th and 6th class (ROI) and Key Stage 2 (NI), the RDS Primary Science Fair provides an opportunity for students to think about science in practical, fun ways. Projects are not limited to a specific theme so schools can choose a topic that interests them and make the most of the chance to learn something new.
The RDS Primary Science Fair is not a competition, the emphasis is to encourage a positive learning experience for each class and to inspire students to see science as exciting, challenging and fun. Successful schools will be invited to exhibit on one day of the RDS Primary Science Fair which takes place from January 12 – 14, 2012 as part of the BT Young Scientist and Technology Exhibition.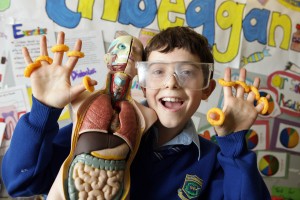 A pupil from Rathbeggan NS, Co. Meath, pictured last year with his project, "You Are What You Eat" (Image courtsey RDS)
Entries for the 2012 RDS Primary Science Fair are now open and will close on October 5, 2011. Schools will be notified of their allocation by mid-October to allow plenty of time for classes to work on their projects!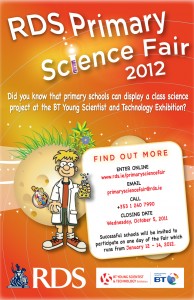 For more information or to contact the RDS Primary Science Fair team please visit www.rds.ie/primarysciencefair telephone 01 240 7990 or email primarysciencefair@rds.ie.