Mr. Thorne Does Phonics is a website of phonics resources for junior classes in the primary school. What is unusual about these resources, however, is that they are all made up of videos. The website is the creation of Christopher Thorne, a primary school teacher teaching in London. The website has been going for four years (about the same as Seomra Ranga!) and has grown in popularity since then. The website has also gained quite a bit of media attention in the UK as schools are finding that it lives up to its motto: "Mr. Thorne Does Phonics – Where Learning to Read Becomes Reading to Learn".
The website takes a very progressive approach to the teaching of phonics for word attack and reading. There is a natural progression as you move from Phase 1 (Introduction) videos through to Phase 6. There is even a video in the Introduction section for use at parent induction evenings to instruct them as to how phonics is taught. There seems to be a video for almost every conceivable phoneme, consonant blend, vowel diagraphs, short and long vowel sounds. In Phase 6, there are videos focussing on spelling patterns, complex and unfamiliar words, plurals, compound words and opposite words, amongst others. There is also a section of videos of High Frequency Words, which include fruit words, colours, days of the week, months of the year, number words and silly sentences.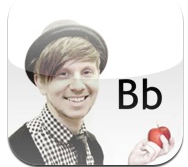 A recent addition to the Mr. Thorne stable is the development of apps for both the iPhone and the iPad – Letters and Sounds; Blends and  Spellings. I've recently downloaded the Blends and Spellings app for the iPad and it's a great resource, one that could even be recommended to parents for working with young children on phonics at home. They are available to buy on the iTunes App Store and are doing well in the Education App charts.
Mr. Thorne can be followed on Twitter and all of the videos are also available on his YouTube channel. All in all, this is a website that comes highly recommended.