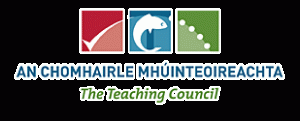 A new addition to the new website will commence in January when a series of monthly interviews will be conducted with prominent figures in the field of education. The series will kick off with an interview with Áine Lawlor, Director of the Teaching Council.
This is where visitors to the website can become involved. Áine has agreed to take questions from visitors to the website. You can submit questions for Áine via the Facebook or Twitter pages, or by posting a comment on this post. These questions must not be of a specific nature but about points in general in relation to education in Ireland and the work of the Teaching Council. I will collate / edit /amalgamate these and submit them to Áine for answers / comments. I will then put Áine's answers together into a post on the Seomra Ranga website.
This is a great opportunity for practising teachers to put questions to the Director of the Teaching Council, so I hope that we can get a series of questions from a cross-section of the teaching community. I wish to express my appreciation to Áine Lawlor for agreeing to submit herself to questioning through the Seomra Ranga website. If there are other figures involved in education that you think would be a good interviewee, please let me know.