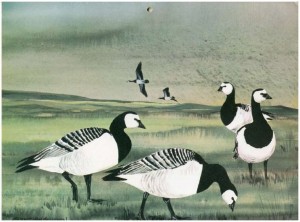 Seomra Ranga is very pleased, and indeed honoured, to announce that the family of the late Gerrit Van Gelderen have given permission for a limited number of resources created by Gerrit to be made available on the site. Gerrit van Gelderen (1926-1994) was a naturalist, wildlife broadcaster, film-maker, illustrator and cartoonist. He had a great interest in the natural environment, especially in Ireland, and he drew many pictures of the animals, birds and landscapes that he saw.
Born on 26 August 1926 in Rotterdam, the Netherlands, in his youth he assisted in surveying the plants and animals of the wildlife sanctuary at De Beer, outside Rotterdam. He was educated at the college of art in the Hague, and afterwards took to hitchhiking through northern Europe. In 1955 he settled in Dublin, working as a commercial artist for an advertising company. In 1958 he began contributing cartoons, illustrations, photography and columns to the Irish Farmers' Journal, often on environmental themes. He had become fascinated by Irish wildlife, and from 1962 he and Éamon de Buitléar presented a weekly wildlife programme on RTÉ television called "Amuigh Faoin Spéir" (Out Under the Sky), which won the Jacobs Award in 1967. In the mid-1970s he made his own series, "To the Waters and the Wild", filming all over the world for over 20 years.
These resources are exclusively available on Seomra Ranga with the kind permission of the Van Gelderen family. The resources are for educational use only and may not be reproduced on any other website or in any other publication. Lies Van Gelderen retains the copyright of the resource. Any further enquiries about the work of Gerrit Van Gelderen from finn@finnvangelderen.com I wish to convey my thanks and appreciation to the family of the late Gerrit Van Gelderen for permission to publish his resources on this site.
The Van Gelderen Archive can be found under the Posters > SESE tab at the top of the website.