Two weeks back at school and everyone is back into the routine again. I've kept on my last year's Rang II and have nine new additions to make a RangII/III split class. Of course one of the first things they were delighted to be back in school about was the use of the iPods in the classroom. From that point of view, nothing has changed. As I explained in earlier posts, my class set of iPods are on loan through the pilot project organised by Sligo Education Centre and Apple Ireland.
The children love doing any sort of work on the iPods (or "playing" on them as they would say!). I was interested to see how my nine new additions would manage doing some work on the iPods – I needn't have worried! They are just absorbed with this new technology in the classroom and need very little instruction on how to use them. Whatever they are unsure about, the other "experts" in the classroom (.ie the eight and nine year olds in Rang III, who are only using them since last May) are willing teachers and just explain in quite simple terms what to do.
There has been a lot of interest in the previous posts I wrote about the use of the iPod Touches in the classroom, so I thought that it was opportune at the start of the year to let readers know what sort of apps we have been using both for entertainment and to enhance our learning:
1. Flip It! Lite: a very simple animation app for making flip books
2. Perfect Balance: Harmony: This is a great app for logical reasoning and spatial awareness. I initially downloaded the Lite version of this app thinking that it would take the children ages to make their way through the various levels. I should have known better. The first had them all done in 15 minutes. They were enjoying it so much that I purchased the full version.
3.
Rory's Story Cubes: We haven't used this app in a while so we must start to use it again as it's a great app for developing oral language skills. Although it's an Irish made app which is reason enough to use it, Rory's Story Cubes is proving very popular all around the world. It consists of nine cubes on the screen, each face of which has an image. The object of the app is to tell a story connecting all nine images that are facing up. It's so simple and yet so effective. Two of my pupils actually put together both of their Story Cubes screens and told a longer story. This could also be developed into a written activity.
4. Zentomino: As with many apps in the App Store , there is a free Lite version and a paid version. This can be a difficult app for younger children but it is also a challenge. It is very good for spatial awareness. The object of the app is to fit a number of regular and irregular shapes into another shape template. As I said, it can be difficult and frustrating!
5. Basic Math: This is a free app and is good for practising maths tables. Pupils can practise tables in the four basic mathematical operations. Pupils are given a table and are asked to select the answer from three possible options.
6. ICDL (International Children's Digital Library): A very basic app for younger children initially containing four digital books. It is envisaged that more books will be added from the extensive Library over time.
7.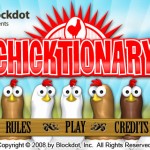 Chicktionary: There is a Lite and paid version of this app. It is very similar to the letters game from the Channel 4 show "Countdown". You are given seven letters and are asked to find 32 words using these letters. The words to be found range from three, four, five, six and one seven-letter word. You can earn points for each word found and you can also work on a timer. The whole app is animated with clucking hens (hence the name of the app) and all the found words are revealed in egg boxes. The children really loved this app as did the teacher. It was a great way of building up vocabulary and making words.
 8. Doodle Buddy: This is a drawing app where the pupils can either draw a picture alone or with a friend. It has the usual drawing tools that you would find in any drawing application. It also has stampers which the children love to use as they create a sound effect when you stamp them onto the screen. You can view some of the pictures they created using this app on our School Website. However, a great addition to this programme was discovered by the pupils themselves, the ability to connect iPods via wi-fi. This enables the pupils to draw a picture together even though they may be at opposite ends of the room. They can also text each other. So I used this function at the end of the last term to get the pupils to quiz each other on tables. The possibilities of using this type of function are endless.
9. Origami Classroom (by Easy Studio – I can't seem to find this now in the App Store): This app provides step by step instructions on how to fold paper to create animals. fish and other objects. It also provides a video to accompany each creation showing someone making the object. A lot of my pupils found this app hard to follow. Perhaps it would be more suitable to older pupils.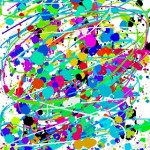 10. Jackson Pollock: During the final term of the last school year we got involved in a Twitter project with a number of schools around the country, part of which was discussing the "No 5" painting by Jackson Pollock via Twitter. One of the other teachers in the project informed me that there was a Jackson Pollock app so we incorporated that into our project. The pupils created paintings in the style of Jackson Pollock using this app, which you can view on our School Website.
11. Faces iMake: This is a new app that we have just introduced since September and the children loved it. There was very little explaining to do with it – in fact, as usual, the children discovered many more things that it could do and were able to teach me and the rest of the class. This is a drawing app where pupils create a picture of a face using everyday objects like food, school objects, buttons, tools etc. We were working on food in science last week so we made faces using just the food items. The art work created was great and looks really well on the classroom wall. I haven't managed to put these on the school website yet but will do so soon.
12. Lets Tans: This is another new app that we have been using during the past two weeks. It's based on the Chinese tangrams puzzle and is great practice for the shape and space strand in the maths curriculum. It's also great for spatial awareness. Depending on what level of the game you are playing, pupils are given a number of tangram pieces to fit into a blank template. The pieces may have to be twisted or reversed in order to fit into the template. The pupils really enjoyed it, some more than others. I started the pupils off on the second level of the game, the Junior level, which consisted of 140 puzzles to be solved. One of my seven year old pupils had finished all puzzles on this level by the second day using the app! The teacher can actually check that all puzzles have been completed and see how long it took the pupil to complete each puzzle. It's really a great app.
13. Smiley Sight Words: This is another new app that we have been using during the past two weeks. I think I found out about it through Twitter via @ebd35 who is using iPods in her classroom in England. This app gets the pupils to practise their sight vocabulary. Within the app there are 40 levels of Smiley Sight Words, 7 levels of Dolch words, 11 levels of Dolch Words by Frequency, 10 levels of Fry Words by Frequency, 10 levels of UK Words by Frequency plus a selection of other word lists. There is also the option to customise a word list. At the moment my pupils are working their way through the Dolch word list – they have to go through each list three times and get three "thumbs up" for correctly identifying each word. This app is great for developing vocabulary.
 These are the main apps that we have used so far during this pilot project. The aim is to introduce a number of other apps before the project ends. I'd also appreciate any suggestions of educational "apps must-haves" that teachers think would be great to use.