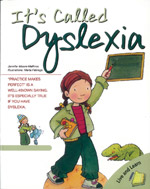 "It's Called Dyslexia" is a new book recently published by Irish publisher O' Brien Press. It's written by Jennifer Moore-Mallinos, and was originally published in Barcelona, Spain. The colourful book is told from the point of view of the central character, Sarah. She tells of her life at school and how Dyslexia affects her ability to learn at school. She recalls her excitement about how she was looking forward to reading books all about dinosaurs, only to discover that she had difficulty reading the books. She talks about her emotions and frustrations as she grapples with learning to read and write. She says things like, "It's very confusing"; "I feel sad"; "Why can't I read and write well?" She then explains how there is hope for the future. She says, "I have dyslexia, but I'll improve". She explains how she gets some extra help from her teachers and her parents and how she learns new skills and strategies to help her cope with dyslexia. She recalls how she discovers a special talent that she has for writing poetry and gains such confidence that she reads her poetry to the entire class.
This publication is supported by the Dyslexia Association of Ireland and Hasbro's National Game Playing Week. It's a 36 page full colour book with excellent production values. Its format for the story section of the book is to have text on the left hand page and a full page colour illustration on the right hand page. The text pages are not overburdened with text and, for the most part, the text is aligned in the centre of the page with plenty of surrounding space. The language used is child-friendly as the story is being told from the point of view of a primary school aged child. This book would be very suitable for a parent to read to a child who has dyslexia or to have in a school library to inform and educate other pupils about children who have dyslexia. 
At the rear of the book, there are some activities for pupils with dyslexia to try out to help improve their vocabulary and reading. There are also a further two pages of notes for parents explaining very briefly what dyslexia is and how it manifests itself in the school life of the child.
The book retails at €9.99 ISBN 978-1-84717-203-7