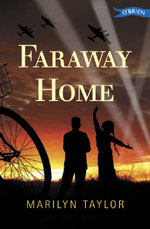 Karl and Rosa's family watch in horror as Hitler's troops parade down the streets of their home city — Vienna. It has become very dangerous to be a Jew in Austria, and after their uncle is sent to Dachau, Karl and Rosa's parents decide to send the children out of the country on a Kindertransport, one of the many ships carrying refugee children away from Nazi danger. Isolated and homesick, Karl ends up in Millisle, a run-down farm in Ards in Northern Ireland, which has become a Jewish refugee centre, while Rosa is fostered by a local family. But Northern Ireland is in the war too, with rationing and air-raid warnings, and, in April 1941 the bombs of the Belfast Blitz bring the reality of war right to their doorstep. And for Karl and Rosa and the other refugees there is the constant fear that they may never see their parents again.
This book by Marilyn Taylor is aimed at pupils in senior classes. These documents for the teacher contain suggestions on how to use the book as a cross-curricular resource in the Sixth Class classroom.
Teaching Guide  (.pdf file 98KB)
Teaching Ideas (.pdf file 94KB)
These resources have been made available to Seomra Ranga with the kind permission of the O' Brien Press. (www.obrien.ie/) O' Brien Press retains the copyright of the resources.