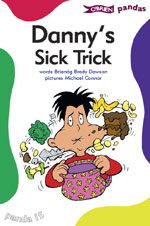 It's boring, boring, BORING! Danny does NOT want to visit Auntie Bessie: she makes horrible dinners. How can he get out of it? Easy, peasy! Get sick, of course! What will happen to Danny next?
This book by Brianóg Brady-Dawson is aimed at younger pupils. These documents for the teacher contains suggestions on how to use the book as a cross-curricular resource in the First Class classroom. There are also worksheets for the pupils.
Teacher's Resource File – (.pdf file 42KB)
Worksheet 1 – Aunt Bessie is Cooking (.pdf file 34KB)
Worksheet 2 – Spot the Differences (.pdf file 46KB)
Worksheet 3 – Maze to Aunt Bessie's House (.pdf file 34KB)
These resources have been made available to Seomra Ranga with the kind permission of the O' Brien Press. (www.obrien.ie/) O' Brien Press retains the copyright of the resources.