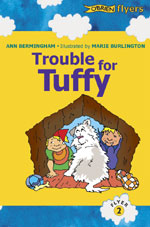 Mum goes out for the day and Dad is left in charge of twins Katie and Ted. That means anything could happen. Tuffy the dog tries to keep order. Katie and Ted play at dressing up. This is OK until they decide they need to go into Mum and Dad's room. Tuffy knows something BAD is about to happen. But what can he do? Then disaster strikes when they lose Mum's best necklace…
This book by Ann Bermingham is aimed at younger pupils. This document for the teacher contains suggestions on how to use the book as a cross-curricular resource in the Second Class classroom.
(.pdf file 62KB)
This resource has been made available to Seomra Ranga with the kind permission of the O' Brien Press. (www.obrien.ie/) O' Brien Press retains the copyright of the resource.