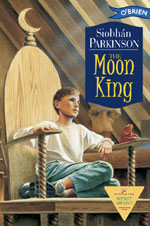 Ricky has withdrawn from the world into his own inner space. Placed in a foster home which is full of sunshine and goodness, he is uncertain how to become part of family life. He often retreats to his favourite hideaway, a special chair in the attic, and adopts the pose of the Moon King. From this situation relationships slowly begin to grow … but it is not a smooth path and at times Ricky just wants to leave it all behind.
This book by Children's Laureate Siobhán Parkinson is aimed at pupils in senior classes. These documents for the teacher contain suggestions on how to use the book as a cross-curricular resource in the Fifth Class classroom.
Teaching Guide (.pdf file 125KB)
Teaching Ideas (.pdf file 93KB)
These resources have been made available to Seomra Ranga with the kind permission of the O' Brien Press. (www.obrien.ie/) O' Brien Press retains the copyright of the resources.