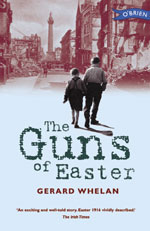 It is 1916 and Europe is at war. From the poverty of the Dublin slums twelve-year-old Jimmy Conway sees it all as glorious, and loves the British Army for which his father is fighting. But when war comes to his own streets Jimmy's loyalties are divided. The rebels occupy the General Post Office and other parts of the city, and Jimmy's uncle is among them. Dublin's streets are destroyed, business comes to a halt. In an attempt to find food for his family, Jimmy crosses the city, avoiding the shooting, weaving through the army patrols, hoping to make it home before curfew. But his quest is not easy and danger threatens at every corner.
This book by Gerard Whelan is aimed at pupils in senior classes. These documents for the teacher contain suggestions on how to use the book as a cross-curricular resource in the Fifth Class classroom.
Teaching Guide  (.pdf file 124KB)
Teaching Ideas (.pdf file 81KB)
These resources have been made available to Seomra Ranga with the kind permission of the O' Brien Press. (www.obrien.ie/) O' Brien Press retains the copyright of the resources.