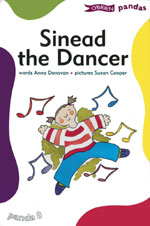 Sinéad wants to learn dancing, but what type? Irish dancing? Ballet? Sinead just doesn't fit in. What can she do?
This book by Anna Donovan is aimed at younger pupils. This document for the teacher contains suggestions on how to use the book as a cross-curricular resource in the First Class classroom.
(.pdf file 62KB)
This resource has been made available to Seomra Ranga with the kind permission of the O' Brien Press. (www.obrien.ie/) O' Brien Press retains the copyright of the resource.