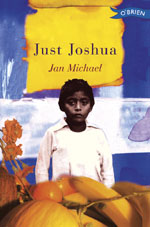 Until the whispers began, Joshua was like all the other village boys, helping out at the market, making a little money from the tourists, getting up to mischief. So what if his father was the only butcher in a village of fishermen, a loner who preferred to spend his evenings carving wood? Is it true what everyone is saying — that Joshua's father is a 'mountain man', one of the people feared and mistrusted by the villagers? When Joshua's life takes an unexpected turn, he discovers that being different does matter. Maybe it's not enough to be just Joshua?
This book by Jan Michael is aimed at pupils in senior classes. This document for the teacher contains suggestions on how to use the book as a cross-curricular resource in the Fifth/Sixth Class classroom.
(.pdf file 90KB)
This resource has been made available to Seomra Ranga with the kind permission of the O' Brien Press. (www.obrien.ie/) O' Brien Press retains the copyright of the resource.