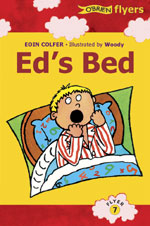 Poor Ed Cooper seems to have one problem after another. From Going Potty to Ed's Funny Feet, Ed's life is never boring. This time around Ed is having problems in school, he just can't get his head around his time-tables. At home things are bad too — Ed has started to wet his bed. What is Ed to do?
This book by Eoin Colfer is aimed at younger pupils. This document is a discovery challenge for pupils in First / Second Class to complete.
(.pdf file 38KB)
Discovery Challenge – Create a Wordsearch based on words in the book.
This resource has been made available to Seomra Ranga with the kind permission of the O' Brien Press. (www.obrien.ie/) O' Brien Press retains the copyright of the resource.