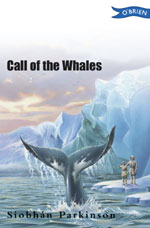 Over three summers, Tyke journeys with his anthropologist father to the remote and icy wilderness of the Arctic. Each summer brings short intense friendships with the Eskimos, and adventures 'which Mum doesn't need to know about'. Tyke is saved from drowning and hypothermia, joins a bowhead whale hunt, rescues his new-found Eskimo friend, Henry, from being swept away on an ice floe, and witnesses the death of innocence with the killing of the narwhal or sea unicorn. An adventure story set in the endless days of a freezing Arctic landscape, with a haunting presence in the form of the magnificent bowhead whales.
This book by Children's Laureate Siobhán Parkinson is aimed at pupils in senior classes. These documents for the teacher contain suggestions on how to use the book as a cross-curricular resource in the Sixth Class classroom.
Teaching Guide  (.pdf file 108KB)
Teaching Ideas (.pdf file 36KB)
These resources have been made available to Seomra Ranga with the kind permission of the O' Brien Press. (www.obrien.ie/) O' Brien Press retains the copyright of the resources.