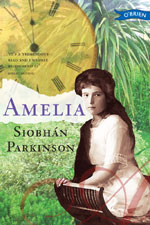 The year is 1914 and Amelia Pim will soon be thirteen. There are rumours of war and rebellion, and Dublin is holding its breath for major, dramatic events. But all that matters to Amelia is what she will wear to her birthday party and how she can be the envy of her friends. But where are Amelia's friends when disaster strikes her family? Now that the Pims have come down in the world, what use will Amelia have for a shimmering emerald-green dress? When Mama's political activities bring the final disgrace, it is Amelia who must hold the family together. Only the friendship of the servant girl Mary Ann seems to promise any hope.
This book by Children's Laureate Siobhán Parkinson is aimed at pupils in senior classes. Both of these documents for the teacher contain suggestions on how to use the book as a cross-curricular resource in the Fifth Class classroom.
Teaching Guide – (.pdf file 115KB)
Teaching Ideas – (.pdf file 34KB)
This resources has been made available to Seomra Ranga with the kind permission of the O' Brien Press. (www.obrien.ie/) O' Brien Press retains the copyright of the resource.