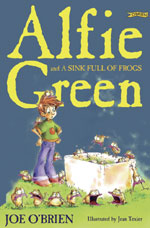 Hundreds of tiny eyes peep up at Alfie Green from the sink in his garden. Frogs! Who invited them? And when the frogs tell their friends and relations about their great new swimming pool, the place is invaded. Alfie needs help — fast. This is a job for the magic book that Alfie has inherited from his granddad. And the magic book comes up with a very unusual way of solving Alfie's problem.
This book by Joe O' Brien is aimed at younger pupils. This document for the teacher contains suggestions on how to use the book as a cross-curricular resource in the Second Class classroom. There is also a worksheet for use by the pupils.
Teacher's Guide – Ideas for using the book in the classroom (.pdf file 103KB)
Worksheet – My Own Arcania (.pdf file 32KB)
These resources have been made available to Seomra Ranga with the kind permission of the O' Brien Press. (www.obrien.ie/) O' Brien Press retains the copyright of the resources.