Welcome to Seomra Ranga, the Hub for Primary School Resources. For the overseas visitors "Seomra Ranga" means "classroom" in the Irish language.
Seomra Ranga has been successfully providing tried and tested resources for primary school classrooms since 2007. Since that time, the site has gradually built up a strong following amongst educators as a repository of quality teacher-created resources. The resources on the site, which support all areas of the curriculum, are arranged in accordance with the curricular provisions of the Irish primary school….
Please have a browse through the new site and support our work in developing new resources by becoming a Member. Individual and School Memberships are available.
---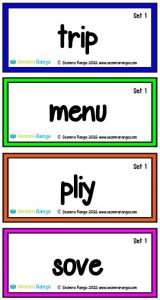 This resource is aimed at pupils in junior/early middle classes at the beginning of learning to read. It is intended to be used as a whole/group fun game/task to consolidate pupils' knowledge of four-letter words. There are 24 words for pupils to sort into Real and Fake Words.