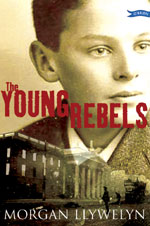 St Enda's is no ordinary school, and Padraic Pearse is no ordinary headmaster. His pupils are inspired by his vision of freedom and an Irish Republic, and John Joe and his friend Roger see the Easter Rising as their chance to fight for Ireland's freedom. But the two boys are horrified to learn that they are too young to take part. They disobey orders to stay away from the city centre and quickly become caught up in the dramatic events of the Rebellion. Called to be brave and resourceful beyond their years, they witness events that change their lives forever.
This book by Morgan Llwelyn is aimed at pupils in senior classes. This document for the teacher contains suggestions on how to use the book as a cross-curricular resource in the Sixth Class classroom.
Teaching Guide (.pdf file 96KB)
This resource has been made available to Seomra Ranga with the kind permission of the O' Brien Press. (www.obrien.ie/) O' Brien Press retains the copyright of the resource.