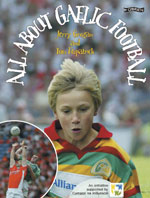 All About Gaelic Football takes a detailed look at the history of football, the counties, the clubs, the winners, the trophies, Croke Park, the team colours, the songs, the best players, the rules and gives top tips for playing … all you could possibly ever know about Gaelic football.
This book by Tom Fitzpatrick and Gerry Grogan is aimed at pupils in middle and senior classes. The following are worksheets for the pupils to complete:
Worksheet 1 – Write a Crimecall Report about the stolen Sam Maguire Cup (.pdf file 32KB)
Worksheet 2– Design a leaflet for Cumann Peil Gael na mBan (.pdf file 49KB)
Worksheet 3– Find out more about Gaelic Football teams in your province (.pdf file 38KB)
Worksheet 4 – How well do you know the other teams in your province? (.pdf file 40KB)
Worksheet 5 – Create your own fantasy football team (.pdf file 39KB)
Worksheet 6 – The Great Debate – Should the GAA go professional? (.pdf file 39KB)
Worksheet 7– Draw a map showing where your local GAA ground is located (.pdf file 35KB)
Worksheet 8 – Write a profile of your local GAA club (.pdf file 36KB)
These resources have been made available to Seomra Ranga with the kind permission of the O' Brien Press. (www.obrien.ie/) O' Brien Press retains the copyright of the resources.