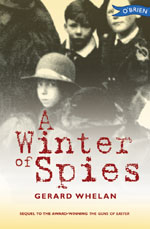 A sequel to The Guns of Easter, this books tells the exciting story of Sarah (Jimmy's young sister) and their family who are involved in the spying activities of Michael Collins during the War of Independence. Sarah, a young eleven-year-old, cannot figure out why her family is so neutral towards the war and why everybody is so secretive. A strong rebel herself, she wants to do her bit for Ireland. Then she finds out the terrible truth – and she too carries secrets which could cost her her life.
This book by Gerard Whelan is aimed at pupils in senior classes. These documents for the teacher contain suggestions on how to use the book as a cross-curricular resource in the Sixth Class classroom.
Teaching Guide (.pdf file 136KB)
Teaching Ideas (.pdf file 76KB)
These resources have been made available to Seomra Ranga with the kind permission of the O' Brien Press. (www.obrien.ie/) O' Brien Press retains the copyright of the resources.