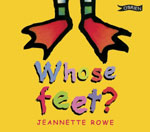 A fun colourful lift the flap book series which will help children identify whose ears, nose and feet belong to which animal.
This book by Jeanette Rowe is aimed at younger pupils. There are also companion books, "Whose Nose?" and "Whose Ears?" This document for the teacher contains suggestions on how to use these books as a cross-curricular resource in the Junior Infant classroom.
(.pdf file 61KB)
This resource has been made available to Seomra Ranga with the kind permission of the O' Brien Press. (www.obrien.ie/) O' Brien Press retains the copyright of the resource.