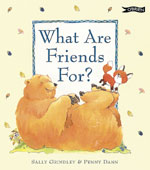 Jefferson the big brown bear and Figgy Twosocks the little red fox are friends. They play together in the sunny green woods, they share the sky and the hills and the trees and they help each other. They know that that's what friends are for. But when Figgy plays a trick on Jefferson Bear he becomes upset and cross. Figgy didn't mean to upset her friend, she'd only been playing and now she worries that she may have lost her friend forever.
This book by Sally Grindley is aimed at younger pupils. This document for the teacher contains suggestions on how to use the book as a cross-curricular resource in the Senior Infant classroom.
(.pdf file 45KB)
This resource has been made available to Seomra Ranga with the kind permission of the O' Brien Press. (www.obrien.ie/) O' Brien Press retains the copyright of the resource.