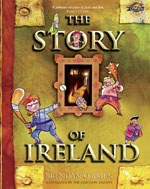 The Story of Ireland recounts the entire history of Ireland from the ice age to the present day . It tells the story of the whole island and its people. The book's 27 chapters chronicle invasions, wars, Christianity, famine and a divided island, mixed with tales of Celtic head hunters, mysterious stone tombs, the Vikings, the black death, life in castles, the Titanic tragedy, music, mobiles and computers. When it ends a new story is just beginning. With beautiful and humorous illustrations throughout, and visual jokes on each page, the history of Ireland is presented in an engaging and readable manner. The Story of Ireland ties in with the school curriculum, and is excellent for school projects.
To School – Activity 1 – Reseach the History of Your School (.pf file 39KB)
To School – Activity 2 – Schools Then and Now (.pdf file 42KB)
To School – Activity 3 – School in Your Grandparents Time (.pdf file 39KB)
To School – Activity 4 – Famous Past Pupils of Your School (.pdf file 38KB)
To School – Activity 5 – Comparing Literacy Rates Around the World (.pdf file 42KB)
This resource has been made available to Seomra Ranga with the kind permission of the O' Brien Press. (www.obrien.ie/) O' Brien Press retains the copyright of the resource.