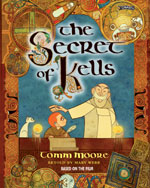 History, myth and legend collide in this full-colour illustrated storybook of the Oscar nominated animated feature Brendan and the Secret of Kells. Twelve-year-old Brendan's life in the monastery at Kells is not very exciting until Aidan arrives. Suddenly life is one big adventure. In the forest Brendan is rescued from wolves by Aisling, a mysterious green-eyed girl. In the cave of the Dark One, he risks his life to steal the eye of the serpent god, Crom Cruach. Meanwhile Aidan is keeping a secret that will become Brendan's biggest challenge, and the Vikings get nearer and nearer … This exciting story is brought to life through stunning visuals and includes a section of facts about the real Book of Kells.
This book is written by Tomm Moore and is suitable for primary school aged pupils. This document gives some background information on the story as well as suggestions for follow-on activities in the classroom.
(.pdf file 1.36MB)
This resource has been made available to Seomra Ranga with the kind permission of the O' Brien Press. (www.obrien.ie/) O' Brien Press retains the copyright of the resource.