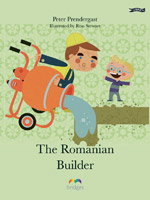 Joe had so many questions for the new builder: Which tool was the most important? What if you were afraid of heights? How do you put scaffolding together? He is really disappointed when he finds out that Radu doesn't speak any English. Now he will never find out about building – or will he? A story of understanding without words.
This book by P.R. Prendergast is part of the "Bridges" series  – a new series of books for modern, multi-cultural Ireland for children aged 6-8.  This document for the teacher contains suggestions on how to use the book as a cross-curricular resource in the classroom.
(.pdf file 90KB)
Romanian Food – two recipes from Romania (.pdf file 45KB)
This resource has been made available to Seomra Ranga with the kind permission of the O' Brien Press. (www.obrien.ie/) O' Brien Press retains the copyright of the resource.