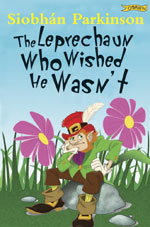 Laurence is a leprechaun who has been small for 1100 years and is sick of it! He wants to be TALL. He wants to be cool. Then he meet Phoebe, a large girl who wants to be small. When she invites him to live in her house, Laurence is delighted. He starts wearing jeans and denim jackets and gets rid of the pointy hat. But there is one thing about leprechauns that you can't change – they are always up to mischief. And when Laurence decides on a new career … that's when the fun really starts!
This book by Siobhán Parkinson is aimed at younger pupils. This document for the teacher contains suggestions on how to use the book as a cross-curricular resource in the Second Class classroom.
(.pdf file 74KB)
This resource has been made available to Seomra Ranga with the kind permission of the O' Brien Press. (www.obrien.ie/) O' Brien Press retains the copyright of the resource.