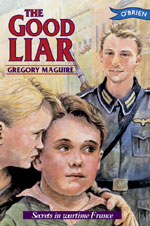 Asked to recount his wartime experiences, the old painter Marcel looks back on a childhood touched by war but almost oblivious to its importance. Living in a small village in Occupied France during the Second World War, the child Marcel and his two older brothers René and Pierre are more concerned with their lying games and with their ability to outwit the adults, especially Maman. But strange things happen. Jewish guests arrive and then disappear. At the same time their beloved dog Mirabeau is mysteriously lost. German soldiers are seen in their village. René and Marcel are curious and begin to explore a friendship with their favourite German soldier. But can such friendship exist in wartime?
This book by Gregory Maguire is aimed at pupils in senior classes. This document for the teacher contains suggestions on how to use the book as a cross-curricular resource in the Sixth Class classroom.
(.pdf file 113KB)
This resource has been made available to Seomra Ranga with the kind permission of the O' Brien Press. (www.obrien.ie/) O' Brien Press retains the copyright of the resource.