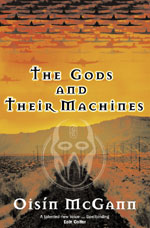 Chamus's nightmare begins when he survives a massacre. Suicide-bombers from neighbouring Bartokhrin are terrorising his country, Altima. How do you fight someone who isn't afraid of death? Across the border, Riadni is no ordinary Bartokhrin girl; she dresses like a boy, fights like a boy, spits and rides her horse like a boy. When the Hadram Cassal set up camp on her father's land, she is drawn to these rebels who are prepared to fight — and to die — for their homeland. A crash-landing in Bartokhrin territory forces Chamus and Riadni together and they find themselves on the run, hunted by killers. Danger and death are closing in on them from all sides.
This book by Oisín Mc Gann is aimed at pupils in senior classes. This document for the teacher contains suggestions on how to use the book as a cross-curricular resource in the Sixth Class classroom.
(.pdf file 104KB)
This resource has been made available to Seomra Ranga with the kind permission of the O' Brien Press. (www.obrien.ie/) O' Brien Press retains the copyright of the resource.