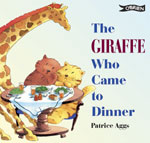 Giraffe is coming to visit, but kittens Cosy and Posy don't know what a giraffe looks like. When they find out that a giraffe has a very long neck and lots of spots they are scared. But they soon learn that friends come in all shapes and sizes.
This is a picture book by Patrice Aggs aimed at younger children. This document for the teacher contains suggestions on how to use the book as a cross-curricular resource in the Junior Infant classroom.
(.pdf file 47KB)
This resource has been made available to Seomra Ranga with the kind permission of the O' Brien Press. (www.obrien.ie/) O' Brien Press retains the copyright of the resource.