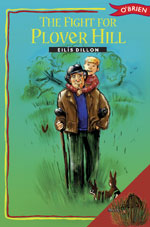 John's grandfather Old Dan, refuses to leave his farm on Plover Hill, even when the valley around it is flooded and it becomes an island. The only sensible option is for John to move in there with him. When their idyllic lifestyle and the rich wildlife of the island is threatened, John wonders will he be able to save Plover Hill for his grandfather and for the animals for whom it is a santuary?
This book by Eilís Dillon is aimed at pupils in middle classes. This document for the teacher contains suggestions on how to use the book as a cross-curricular resource in the Third Class classroom.
(.pdf file 41KB)
This resources has been made available to Seomra Ranga with the kind permission of the O' Brien Press. (www.obrien.ie/) O' Brien Press retains the copyright of the resource.