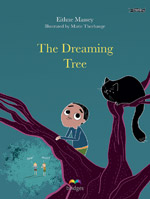 Back home in Brazil, Roberto loved playing football. Now he lives in Ireland, and he'd really like to have a game with the boys in the park, but he's too shy.  When his granny reminds him of the Brazilian story of the dreaming tree, he doesn't see how a story can help him … But maybe it can!
This book by Eithne Massey is part of the "Bridges" series  – a new series of books for modern, multi-cultural Ireland for children aged 6-8.  This document for the teacher contains suggestions on how to use the book as a cross-curricular resource in the classroom.
(.pdf file 78KB)
This resource has been made available to Seomra Ranga with the kind permission of the O' Brien Press. (www.obrien.ie/) O' Brien Press retains the copyright of the resource.