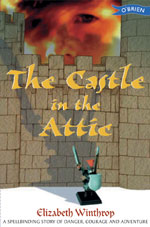 A strange legend attaches to the model castle given to William by his friend Mrs Phillips as her going-away present. William is drawn into the legend when the silver knight who guards the castle somes to life. In an action-filled fantasy quest he has to pit his wits against an evil sorcerer and a fire-breathing dragon to free an other-world kingdom from its ancient spell.
This book by Elizabeth Winthrop is aimed at pupils in middle classes. This document for the teacher contains suggestions on how to use the book as a cross-curricular resource in the Fourth Class classroom.
(.pdf file 76KB)
This resource has been made available to Seomra Ranga with the kind permission of the O' Brien Press. (www.obrien.ie/) O' Brien Press retains the copyright of the resource.