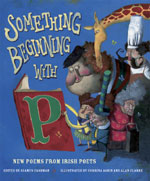 This is a highly acclaimed collection of specially commissioned new poems for children. It features work by 103 leading Irish poets with stunning illustrations.
There are four different resources associated with this book:
Teaching Guide Pages 1 – 4: Introduction and Notes on Feelings and Interesting Characters (.pdf file 100KB)
Teaching Guide Pages 5 – 9: Notes on Cultural Diversity, Nature, History, Family and Nonsense / Word Play (.pdf file 101KB)
Teaching Guide Pages 10 – 14: Notes on Festivals, Fantasy, Spirituality and Seeing the Illustrations (.pdf file 93KB)
Teaching Guide Pages 15 – 16: Thematic Index to the Poems (.pdf file 62KB)
This resource has been made available to Seomra Ranga with the kind permission of the O' Brien Press. (www.obrien.ie/) O' Brien Press retains the copyright of the resource.