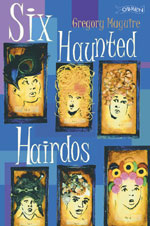 If you've read Seven Spiders Spinning you'll have met the class divided in two — the boys versus the girls — except for Pearl Hotchkiss, who maintains an independent position. Forever trying to outwit each other, the two gangs become embroiled in another crazy adventure, and unwittingly bring to life the ancient ghost of the locality — as well as some modern made-up ghosts who appear in stunning but slightly over-the-top hairstyles! A madcap adventure full of fun and wit.
This book by Gregory Maguire is aimed at pupils in middle classes. This document for the teacher contains suggestions on how to use the book as a cross-curricular resource in the Fourth Class classroom.
(.pdf file 39KB)
This resource has been made available to Seomra Ranga with the kind permission of the O' Brien Press. (http://www.obrien.ie) O' Brien Press retains the copyright of the resource.