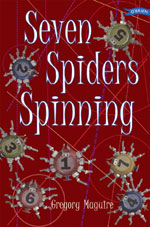 Seven baby Siberian snow spiders, frozen since the Ice Age, defrost on their way to a science lab. They wake up in a wood where the Tattletales girls club are planning for the school Halloween Horror Pageant. Their goal is to wipe the floor with their arch-enemies the Copycats (all boys, naturally). For the spiders it's love at first sight! And one by one, the talented TARANTULAS find their way to the school, each in search of his special Tattletale. But, as each one fails to return, the others become sadder, and madder, so when the final three reach the school it's not love, but MURDER they have in mind! Will this be the scariest Hallowee'n Pageant ever? And can the Tattletales and Copycats join forces to save their school from disaster?
This book by Gregory Maguire is aimed at pupils in middle classes. This document for the teacher contains suggestions on how to use the book as a cross-curricular resource in the Fourth Class classroom.
(.pdf file 75KB)
This resource has been made available to Seomra Ranga with the kind permission of the O' Brien Press. (www.obrien.ie/) O' Brien Press retains the copyright of the resource.