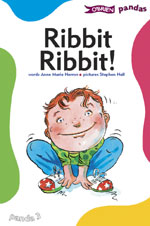 Freddy loves being a frog! 'Ribbit, ribbit,' he says when anyone talks to him. It's great fun for a while, then everyone gets tired of Freddy and his antics. But he will not give it up. He is a frog and he will stay a frog. Until Polly comes up with a good idea …
This book by Anne Marie Herron is aimed at younger pupils. This document for the teacher contains suggestions on how to use the book as a cross-curricular resource in the First Class classroom.
(.pdf file 55KB)
This resource has been made available to Seomra Ranga with the kind permission of the O' Brien Press. (www.obrien.ie/) O' Brien Press retains the copyright of the resource.