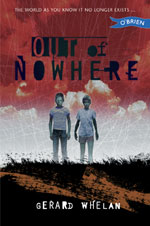 A boy wakes up in bed in a room built of stone. He knows his name is Stephen, but he can remember nothing else about himself. He discovers that he's in a remote monastery being looked after by a group of monks. Beyond the monastery walls, all traces of human life have simply disappeared. Villages deserted, doors left open, with taps left running, but no people. And with all means of communication down, he has no way of knowing if the rest of the world has disappeared too. Then the visitors arrive, strange men with unnatural powers, and when he discovers who they really are it turns his whole world inside out and changes everything he ever believed.
While this book by Gerard Whelan is aimed at pupils in junior cycle in secondary schools, a teacher may find that a particularly good sixth class may well be up for the challenge. This document for the teacher contains suggestions on how to use the book as a cross-curricular resource in the classroom.
Teaching Guide (.pdf file 117KB)
These resources have been made available to Seomra Ranga with the kind permission of the O' Brien Press. (www.obrien.ie/) O' Brien Press retains the copyright of the resources.