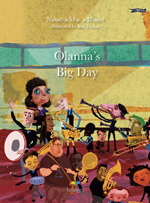 There's great excitement when the school band is chosen to march in the Saint Patrick's Day Parade. Olanna practises really hard on her tin whistle. At last the big day arrives and they line up with the stilt-walkers, the bagpipers, the dancing leprechauns. Then disaster strikes. But Olanna – and her granny back in Nigeria – saves the day!
This book by Natasha Mac a'Bháird is part of the "Bridges" series  – a new series of books for modern, multi-cultural Ireland for children aged 6-8.  This document for the teacher contains suggestions on how to use the book as a cross-curricular resource in the classroom.
(.pdf file 89KB)
This resource has been made available to Seomra Ranga with the kind permission of the O' Brien Press. (www.obrien.ie/) O' Brien Press retains the copyright of the resource.