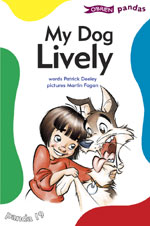 Jenny is six years old. Every birthday she gets a new toy dog. But what she really wants is a real live dog, a pet that's all her own. But when Mum and Dad buy her a real dog called Lively, she finds out that real pets can be a lot of hard work!
This book by Patrick Deeley is aimed at younger pupils. This document for the teacher contains suggestions on how to use the book as a cross-curricular resource in the First / Second Class classroom.
(.pdf file 34KB)
This resources has been made available to Seomra Ranga with the kind permission of the O' Brien Press. (www.obrien.ie/) O' Brien Press retains the copyright of the resource.