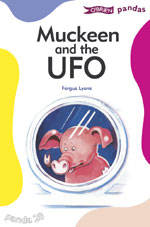 Muckeen is having a great time in the big field. He skips. He dances. He twirls. Then a big silver spaceship beams the little pig up into the sky. What can the aliens want with Muckeen?
This book by Fergus Lyons is aimed at younger pupils. This document for the teacher contains suggestions on how to use the book as a cross-curricular resource in the First Class classroom.
(.pdf file 37KB)
This resource has been made available to Seomra Ranga with the kind permission of the O' Brien Press. (www.obrien.ie/) O' Brien Press retains the copyright of the resource.