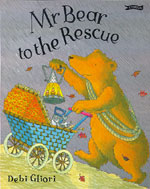 One stormy night Mr Bear is woken up by a small rabbit voice crying 'Help'. The warren has collapsed, the Hoor-Toowits' nest has blown away, the Buzzes' hive is ruined, and worst of all, Baby Flora bunny can't be found anywhere. So, armed with his toolkit, a lantern and a honey sandwich, Mr Bear sets off to the rescue …
This book by Debi Gliori is aimed at younger pupils. This document for the teacher contains suggestions on how to use the book as a cross-curricular resource in the Junior Infant classroom.
(.pdf file 29KB)
This resource has been made available to Seomra Ranga with the kind permission of the O' Brien Press. (www.obrien.ie/) O' Brien Press retains the copyright of the resource.