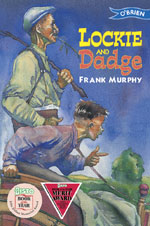 Lockie is a bit of a misfit. Orphaned, he is placed in foster home after foster home, but somehow he never settles in. 'Troublemaker' is the general verdict. He runs away and meets up with some colourful characters – Dadge and his strange friends Pasha and Mammy Tallon. For the first time Lockie doesn't feel like an outsider. But others are out to wreck his happiness.
This book by Frank Murphy is aimed at pupils in senior classes. These documents for the teacher contain suggestions on how to use the book as a cross-curricular resource in the Sixth Class classroom.
Teaching Guide  (.pdf file 117KB)
Teaching Ideas (.pdf file 87KB)
These resources have been made available to Seomra Ranga with the kind permission of the O' Brien Press. (www.obrien.ie/) O' Brien Press retains the copyright of the resources.