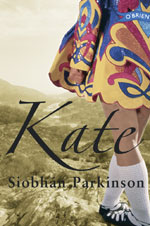 When Kate goes to her very first Irish dancing lesson she is smitten: It's like flying, she decides. It's the best thing she's ever done. But, coming from a poor family in Dublin's Liberties in the 1930s, how can Kate continue with her dancing? How could she ever manage to buy a fancy dancing costume? Still, Kate has her dreams – and sometimes dreams come true, even if not in the way we imagine!
This book by Children's Laureate Siobhán Parkinson is aimed at pupils in senior classes. This document for the teacher contains suggestions on how to use the book as a cross-curricular resource in the Fifth/Sixth Class classroom.
(.pdf file 81KB)
This resource has been made available to Seomra Ranga with the kind permission of the O' Brien Press. (www.obrien.ie/) O' Brien Press retains the copyright of the resource.