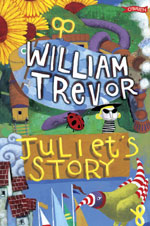 Where would you find talking snails, fighting queens, Welsh witches and winter sunflowers? In stories, of course, and that's why Juliet loves them. On a holiday in France, Juliet hears lots of stories — from her grandmother and from the toymaker who sells wind-up animals on the quayside. Juliet wants to be a storyteller too, and when she embarks on a mission to rescue the little trout in the restaurant fish tank, she begins an adventure which turns into her very own story.
This is William Trevor's only book for children and is aimed at pupils in middle classes. This document for the teacher contains suggestions on how to use the book as a cross-curricular resource in the Fourth Class classroom.
(.pdf file 70KB)
This resource has been made available to Seomra Ranga with the kind permission of the O' Brien Press. (www.obrien.ie/) O' Brien Press retains the copyright of the resource.