Jigsaw Stew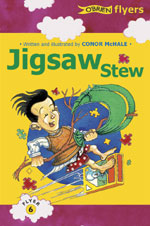 Jack MacAnoolie is stuck in a snow storm with his little sister. The freezing weather has left their family without food. Eating the furniture keeps them going. But when Jack's mother makes a stew out of a jigsaw, strange things start to happen. Can Jack save the day? With the help of his trousers, a big wind and the good doctor, he just might end up a hero …
This book by Conor Mc Hale is aimed at younger pupils. This document for the teacher contains suggestions on how to use the book as a cross-curricular resource in the Second Class classroom. There is also a discovery challenge for the pupils to complete.
Teacher's Guide – Ideas for using the book in the classroom(.pdf file 50KB)
Discovery Challenge – Make your own jigsaw (.pdf file 42KB)
These resources have been made available to Seomra Ranga with the kind permission of the O' Brien Press. (www.obrien.ie/) O' Brien Press retains the copyright of the resources.
Categories: 1st/2nd, Class Novel
0 Responses