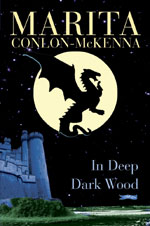 The mysterious arrival of Bella Blackwell, 'The Bird Woman', to the village of Ballyglen disturbs the peace and quiet of the Murphy household next door. Granny Rose is suspicious of Bella, and Rory doesn't trust her, but ten-year-old Mia falls under the old woman's spell. Bella tells Mia of a faraway place, a world where dragons and giants and ancient magic still exists, and asks Mia to become her apprentice and learn the old ways. One dark night Mia disappears and Rory, determined to find his sister, follows her to a world he does not believe in.
This book by Marita Conlon Mc Kenna is aimed at pupils in middle classes. These documents for the teacher contain suggestions on how to use the book as a cross-curricular resource in the Fourth Class classroom.
Teaching Guide  (.pdf file 118KB)
Teaching Ideas (.pdf file 88KB)
These resources have been made available to Seomra Ranga with the kind permission of the O' Brien Press. (www.obrien.ie/) O' Brien Press retains the copyright of the resources.