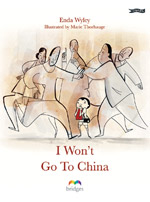 Poor Chang-ming! He has been picked for the school team but his family will be in China then, visiting his grandma. It's not fair. 'I won't go to China,' he decides. But what about Grandma? And isn't a visit to China the most exciting thing ever? Especially when it's Chinese new year? Chang-ming doesn't think so … But China is full of surprises.
This book by Enda Wyley is part of the "Bridges" series  – a new series of books for modern, multi-cultural Ireland for children aged 6-8.  This document for the teacher contains suggestions on how to use the book as a cross-curricular resource in the classroom.
(.pdf file 108KB)
Real Chinese Food – A simple introduction to Chinese food with recipes (.pdf file 173KB)
This resource has been made available to Seomra Ranga with the kind permission of the O' Brien Press. (www.obrien.ie/) O' Brien Press retains the copyright of the resource.